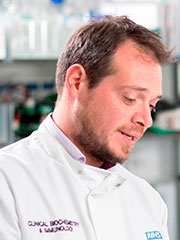 Alexis Bailey
BSc, PhD, Senior Lecturer in Neuropharmacology
Institute of Medical & Biomedical Education, St. George's University of London
Dr Baileys' team has made significant contribution in identifying the role of specific components of CNS systems in the pathophysiology of drug addiction. Extensive work from his laboratory has recently highlighted the oxytocin system as an important target for developing pharmacotherapy for the treatment of co-existing substance use with affective disorders.
He has 50 peer reviewed publications to his name (h index:19) including papers in Molecular Psychiatry, Biological Psychiatry and Neuropsychopharmacology.
He is editor of the British Journal of Pharmacology and Addiction Biology and the recipient of the Bill Bowman Travelling Lectureship Award and the Aptuit prize from the British Pharmacological Society based on published outstanding work in Integrative Pharmacology. His research expertise is recognised within the areas of substance abuse, preclinical animal models of drug addiction, neuropharmacology and more recently moving to human intervention trials in the area of addiction including electronic cigarettes.
Share articles :