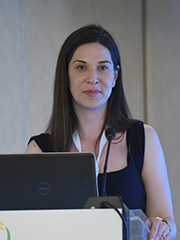 Sophia Papadakis
PhD, MHA Scientist; Associate Professor
Division of Prevention and Rehabilitation, University of Ottawa Heart Institute; Faculty of Medicine, University of Ottawa, Ottawa, Canada
Dr. Papadakis is an Affiliate Researcher in the Division of Prevention and Rehabilitation at the University of Ottawa Heart Institute and Associate Professor in the Faculty of Medicine at the University of Ottawa (Canada) and Visiting Scientist in the Clinic of Social and Family Medicine at the University of Crete (Greece).
Dr. Papadakis received her Ph.D. in 2011 from the Faculty of Public Health and Health Systems at the University of Waterloo and received a Master's in Health Administration in 2004. Sophia has held training and research fellowships from the Canadian Institute of Health Research, Strategic Training Program in Tobacco Research and the Ontario Tobacco Research Unit.
She has published more than 50 peer-reviewed publications and book chapters. Dr. Papadakis is also co-editor of the 2017 European Tobacco Treatment Guidelines and lead author of the Cochrane Collaboration Review on smoking cessation in primary care settings.
Share articles :