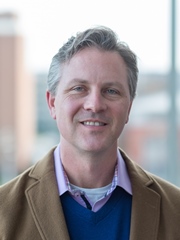 Michael Fisher
Senior Principal Scientist
Regulatory Affairs, Altria Client Services, LLC
Dr. Michael Fisher is a Senior Principal Scientist in Regulatory Affairs for Altria Client Services (ALCS) in Richmond, Va.
Dr. Fisher currently manages external scientific engagements with the public health, scientific and policy communities. Since joining the company in 2005, he has been active in a variety of scientific disciplines, including epidemiology, survey research, toxicology and risk assessment, agronomics and microbiology. His work has resulted in several scientific publications and has been used to support various regulatory submissions.
Dr. Fisher holds a Ph.D. in Biology from Virginia Tech and conducted part of his doctoral research at the Max-Planck-Institut für Biologie in Tübingen, Germany. Prior to joining Altria, Dr. Fisher was an NIH funded post-doctoral fellow at the Medical College of Virginia, Department of Pharmacology and Toxicology conducting research in the areas of immune suppression and immunotherapy for cancer treatment.
Share articles :